I think that the most important thing when it comes to Professional Photogenic makeup is the base, skin care aside, how you make the skin look in both real life and in photos is so important. Everything I have in my kit at the moment is tried and true, so I am confident that these products will give me the best finish and result.

*NOTE: I often mix and match my foundations to create different finishes and colours for different skin types and their needs. I also don't carry every single shade of foundation/concealer for space saving reasons. I will usually carry 2-3 shades of each and find that this is enough to cover a wide range of skin tones. Also, I usually cater to more yellow/golden undertone skins which is why my foundations run very yellow. I do have some pink tone foundations, but find that I rarely need to reach for them.*


PRIMERS//
1. MAC Strobe Cream (Travel Size): This is a multi-tasking illuminating cream that I love using mixed in with liquid foundation if the skin is a little dull. It gives a nice overall glow to the skin but isn't very greasy, so will work on most skin types.
2. Clarins Beauty Flash Balm: I often use this on dry dehydrated skin before a moisturising primer. I find it's really great at maintaining moisture on the skin without interrupting the makeup application.
3. Gorgeous Cosmetics First Base Foundation Primer: This is a lovely hydrating primer I use on almost everyone. It feels extremely comfortable and feels just like a light lotion.
4.
Motives Cosmetics Perfecting Face Primer
: This is a more silicone based primer which is good for filling in and smoothing out enlarged pores. I use this on normal-oily skin in the t-zone.
FOUNDATION//
1. Make Up Forever HD Foundation: I find this one is slightly thicker and more creamy so I would use this on normal dry skin types. Nice med-full coverage.
2. Gorgeous Cosmetics Base Perfect Liquid Foundation: My favourite liquid foundation because the coverage and texture is impeccable. Perfect in both real life and photos, never cakey or heavy. Only down side is that the colour range is not very good, so I mix a little bit of a lighter shade in to customise.
3. Cinema Secrets Foundation Palette: I use this on all skin types and use this for contouring too. Great compact foundation, very pigmented product, can look very natural on the skin and gives med-full coverage. I have this palette in a yellow tone and a pink tone.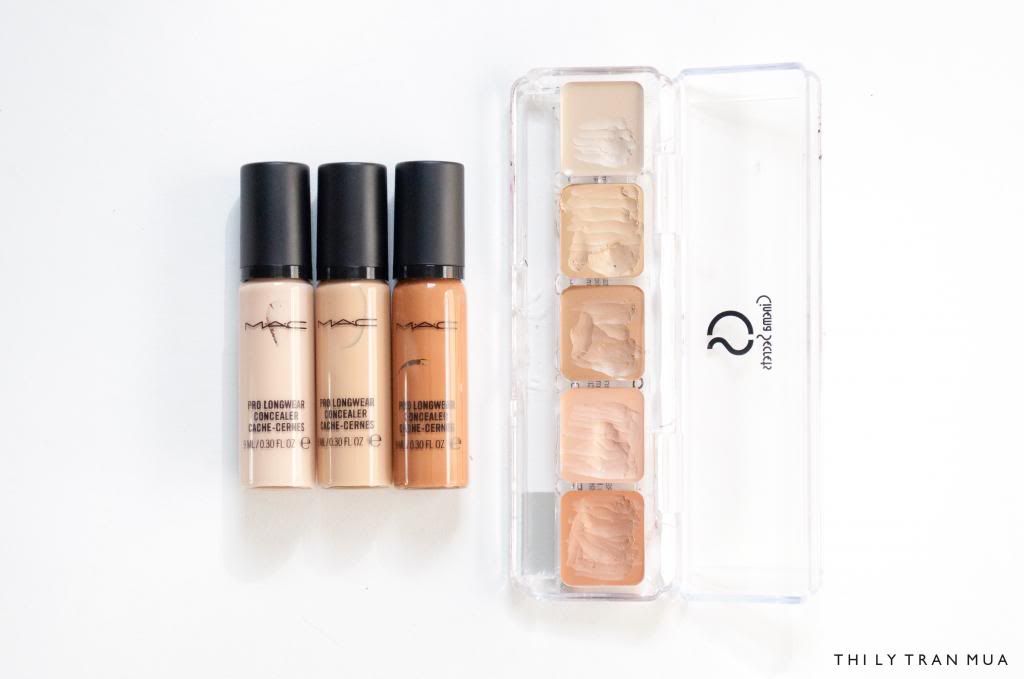 CONCEALER//
1. MAC Pro Longwear Concealer: Nice full coverage concealer, I keep three colours so I can use them to conceal and also highlight/contour.
2. Cinema Secrets Concealer Palette: A really good palette as it contains salmon tones and yellow tones to easily counteract any under eye darkness or skin pigmentation. Very similar to the foundation, but perhaps just slightly more creamy.
POWDERS+FINISHERS//
1. Ben Nye Banana Powder: Made famous by Kim K's MUA, I use this to set both the undereye and all over the face. A great affordable and versatile setting powder.
2. Ben Nye Neutral Set: I usually mix this in with the Banana Powder and rarely use it alone.
3.
Motives Cosmetics 10 Years Younger Setting Spray
: I find this really helps to eliminate any fine lines or wrinkles that the powder may accentuate and gives a really lovely glow to the skin that doesn't make the makeup slip or feel greasy. Made by Skindanavia who make their own + Urban Decay sprays which ensures quality but the Motives Sprays are a fraction of the cost.
4. Kiehls Lip Balm #1 Mint: I put this here because I usually slap on a thick layer after foundation to prep for lipstick. Putting it on 15-20 minutes before lipstick softens any dry patches on the lips and makes it really easy to scrub off for super smooth lips.
xx
Email: thilymua [at] gmail.com