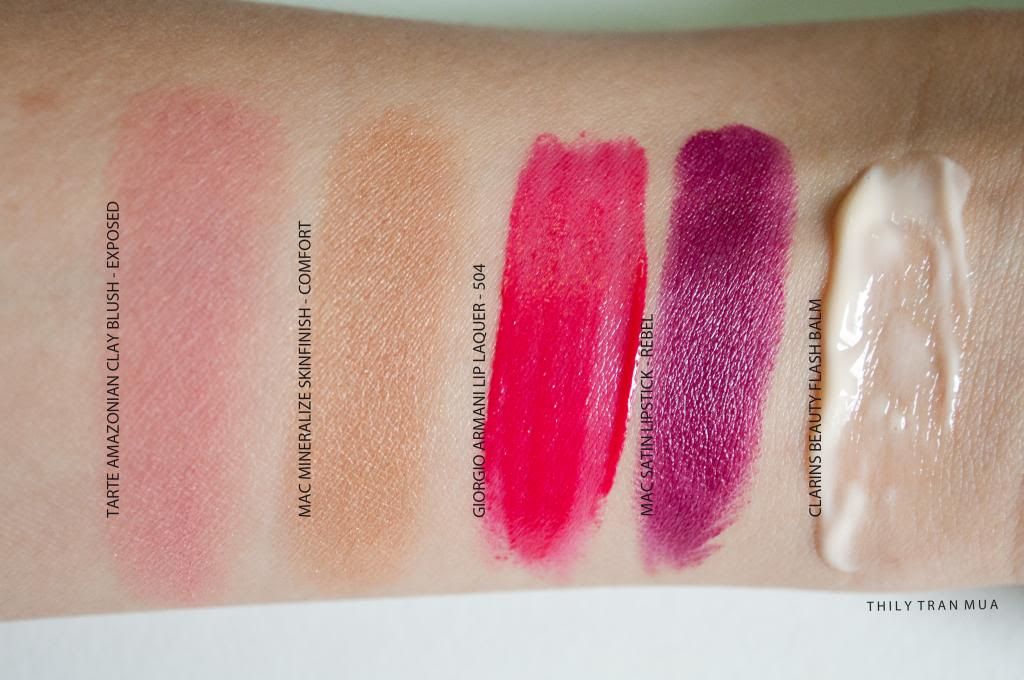 March marks the month of my birth and the start of my favourite season autumn, so it's a fairly good month. I must admit that this month I haven't worn too much makeup and when I have the looks were quite simple, So picking out my favourites was a little bit of a struggle, but i've managed it.
My friend recently went on a trip to America and the sweetie picked up the
Tarte Amazonian Clay Blush
in Exposed
for me. I had actually passed on this during my own trip to Hawaii in October, but reconsidered it when I had another chance at it and i'm so glad I got it this time. It has instantly become a favourite because it is so easy to use,
extremely flattering
(I would imagine on plently of different skin tones) and suits a whole host of different makeup looks.
MAC MSF in Comfort
is something I've had for years, I picked it up in Boston in 2010 and for so long questioned why on earth I bought it. But i've finally found love for it and i've been using is plenty. Since it has a soft shimmer running through it, I love using this as a golden peach blusher/bronzer - It adds so much warmth to the skin and its so lovely.
During Christmas I picked up a few lippies from Giorgio Armani and have been in absolute love. I can't understand why their lip products are so underrated because the formulation of the lip laquers are so comfortable, pigmented and beautiful. Pictured is the
Giorgio Armani Lip Laquer in 504
and it is definitely my kind of lip colour - It is actually more of a pink/berry colour and I love wearing this with just mascara for a really fast and put together look.
M.A.C Satin Lipstick in Rebel
, is another one of those really good lipsticks that you can just slap on for an instand 'look'. This I can imagine would be on a lot of
autumn/winter staple lists
. I always feel so badass wearing this colour and whilst i'm not huge on M.A.C lipsticks, the formulation of this is so nice, pigmented and smooth - I also don't get any lip peeling with this one. Definite thumbs up.
Lastly,
Clarins Beauty Flash Balm
- this has quickly become a staple in my makeup routine and sometimes my skincare routine. My skin is an annoying combination of dry/normal with dehydration usually between my brows and sometimes around my mouth. I just smooth a thin layer of this on before my foundation and it
instantly gives my skin a boost of radiance
and an added layer of moisture. It's one of those products that the industry just loves and you don't really understand the hype about it until you buy it, use it, then stop using and once you stop using it, it hits you like 'ohhhhhh, that's what it did'. Really hard to explain but on my skin it works wonders. I use it here as a base in my
Giorgio Armani Luminous Silk review
.
So those were my March picks. My brother will be going to America in two weeks and I'll be doing a fairly large haul - buying products for my professional kit and killing some high end lemmings for my self.
So let me know below, what were your favourites for the month of March. I'd love to know and maybe try a few of them out too!
Thi Ly Tran xx
instagram: thilytran