It was hard for me to put this post together as cheek products are always changing in and out of my kit, depending on what the makeup look is and what the clients skin is like. Important things to remember when you choose cheek products are the texture and finish of the product.
Shimmer: Dry/dull skin
Satin: All skin types
Matte: All skin types, best for Oily skin.
Liquid: Dry/normal skin
Cream: All skin
Powder: All skin, esp oily
If a client has oily skin, I will use mainly matte and powder type products as anything overly shimmery can accentuate the appearance of pores making them look enlarged and anything too emollient will not adhere well to the skin - plus as the day goes on, natural oils will seep through which will break down any foundation/blush/contour if it isn't properly prepped. For dry skin, shimmery products can give the skin a more luminous and glowing affect. Generally if the skin looks too dry or matte it can actually make the skin appear more aged and tired, so keeping glow levels up on dry dehydrated skin types are more ideal.
These are just the guidelines I like to follow as they help keep my kit nice and condensed. Ideally I don't need to and don't want to carry 10 blushers or bronzers. But don't be afraid to try mixing and matching finishes/products to achieve different effects. Experiment!
1. MAC Mineralise Skin Finish 'Comfort' (LE): Shimmering golden bronzer
2. Motives Shape & Sculpt Duo: A satin finish powder for contouring - cool toned
3. Benefit Hoola: Warm matte bronzer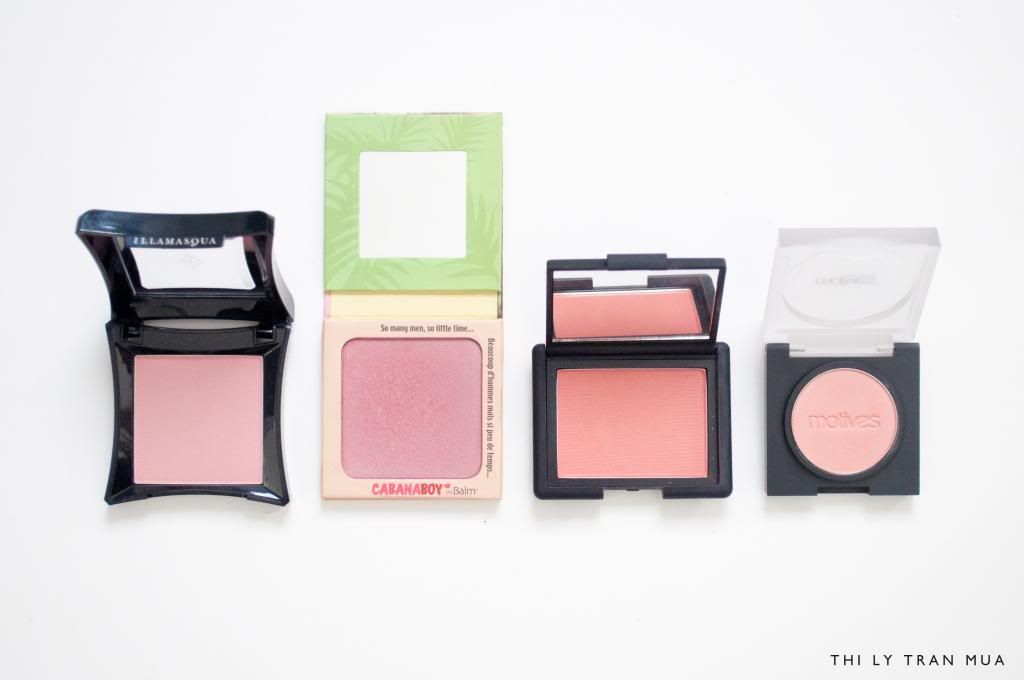 Above are the brands I like to keep in my kit but I don't always keep all of them in my kit at the same time. When choosing blushes, keep in mind the undertone of the blush, is it warm or cool?
1. Illamasqua Naked Rose Blush: Matte cool pink
2. The Balm Cabana Boy Blush: Shimmering golden purple
3. NARS Gilda Blush: Matte warm peach
4. Motives Naughty Blush: Shimmering peach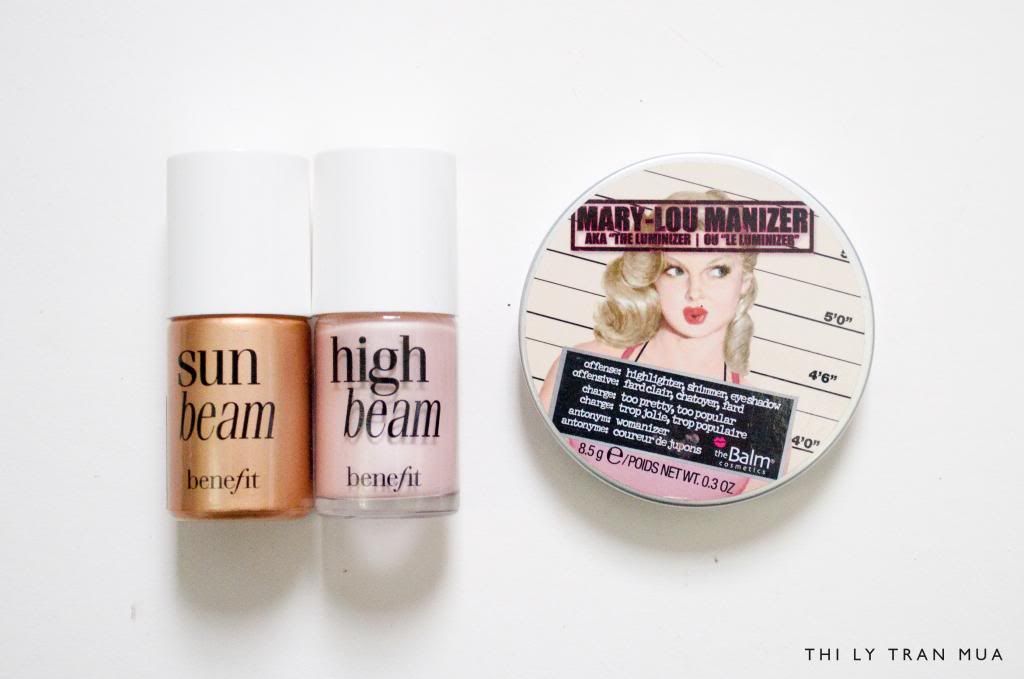 Highlights/illuminators are a super fun product, but they can be tricky. Too much and you could end up looking very oily/shinny. I keep both a liquid and powder in my kit for different reasons. A liquid is good for mixing with moisturiser or liquid foundation to give sallow/dull/dry skin the appearance of more hydration. Powders are good for all skin types, but are much easier to control when you need to add highlight to oily skin.
1. Benefit Sun Beam: Warm golden liquid shimmer.
2. Benefit High Beam: Cool pink liquid shimmer.
3. The Balm Mary-Lou Manizer: Champagne powder highlight.
xx
Email: thilymua [at] gmail.com