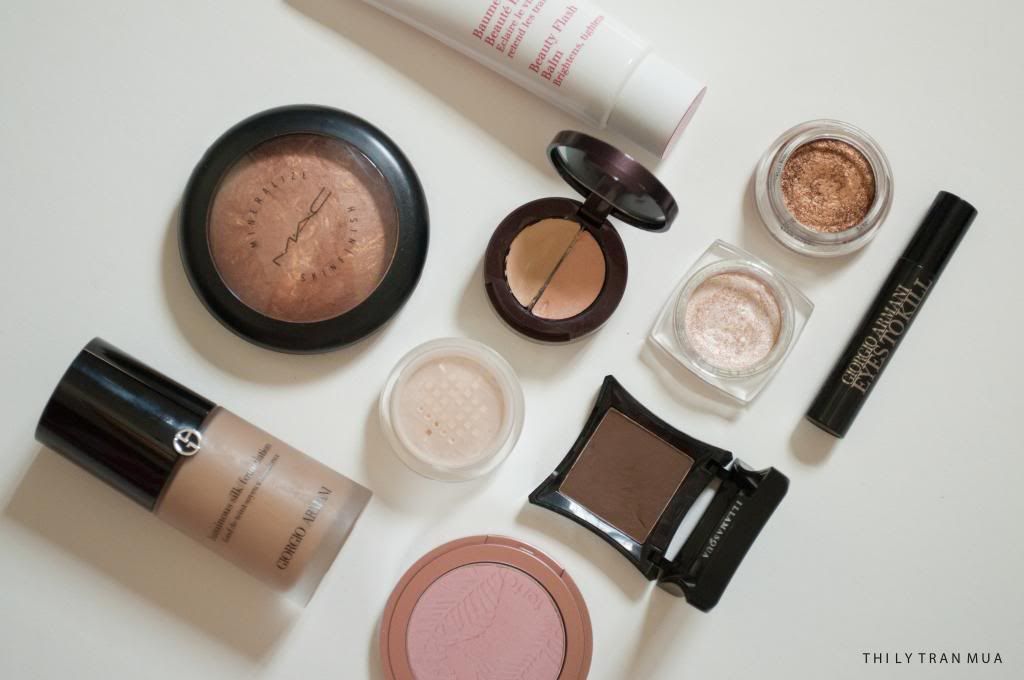 For almost a year now, my foundation of choice has been the
Giorgio Armani Luminous Silk Foundation
, it is quite a cult favourite winning beauty awards year after year and personally I can completely understand why. For reference my skin is dry/normal combination and I usually have dehydration around my nose and especially inbetween my brows.
PACKAGING:
The foundation comes in a nice weighted frosted glass bottle with a built in pump for convenience. Whilst is it quite standard these days for foundation to have this feature, I can think of several foundations which still don't include this essential feature, so I thought that was definitely worth a mention. The design it self is very modest and minimal which I can really appreciate.
PRICE & AVAILABILITY:
Giorgio Armani cosmetics are stocked in selected Myers and David Jones and can be purchased online from both department stores. This foundation in Australia retails for $90 (30ml), which is the most I have ever paid for a foundation. With such a hefty price tag this is definitely a luxury item, but if you can afford to splurge and it is suitable for your skin, it is well worth the price. Definitely ask for a sample first or try on in stores, again I don't recommend purchasing online unless you are sure of your colour match.
FORMULATION:
A nice fluid formula that is
oil free and spf free
. Good for flash photography and bridal shoots as there won't be any white flash back. You might not enjoy this is you need to have spf in your everyday foundation but foundations generally only have spf 15 which really isn't enough anyway. Light weight on the skin and not heavy at all, it will eventually set and dry but if aren't used to or just don't like a more dewy wet touch then you may want to avoid this.
APPLICATION & WEAR:
So comparing the before and after, my skin is actually in pretty good condition at the moment; no active breakouts and the skin is quite even in tone and texture - there is slight dryness around the nose area and little around the chin. Before applying the foundation I applied my moisturiser and a layer of
Clarins Beauty Flash Balm
as a primer - I really enjoy the boost of moisture and how it gives my skin an extra glow. I applied the foundation with an angled kabuki brush and set the t-zone with a tiny bit of
Laura Mercier Translucent Loose Powder
.
You can definitely see how the overall colour of my compexion has been evened out and how it leaves my
dry/normal + dehydrated combination skin
with a really healthy natural complexion, it doesn't look 'cakey' or feel heavy either. It doesn't accentuate any dry skin and doesn't make me look tired - I have found that some foundations make me look worse after I apply it. On my skin I get about 6-8 hours of wear, by the end of the day it will start breaking down on my forehead and around my nose, but all foundations do the same so I will need to touch up those areas. Some friends with oily skin don't like this at all as they complained it doesn't have any oil control properties.
OVERALL:
I definitely recommend this if you have dry or normal or dry combination skin like mine and want something nice for both day time use and night time photography use. But with the hefty price tag, unless you're willing to splash out $90 on a bottle for everyday wear you may want to look else where and maybe reserve this for those special occasions. Definitely get a sample or even get a BA to apply it on your skin before committing to a purchase.
PRODUCT LIST:
Giorgio Armani Luminous Silk Foundation #6.0, M.A.C MSF Comfort, Clarins Beauty Flash Balm, Laura Mercier Undercover Pot, Tarte Amazonian Clay Blush Exposed, Illamasqua Brow Cake Thunder, Loreal Infallible Eyeshadow Hourglass Beige, Giorgio Armani Eyes To Kill Eyeshadow #5, Giorgio Armani Eyes To Kill Mascara (sample) + not pictured: Giorgio Armani Rouge Sheer Pink #500