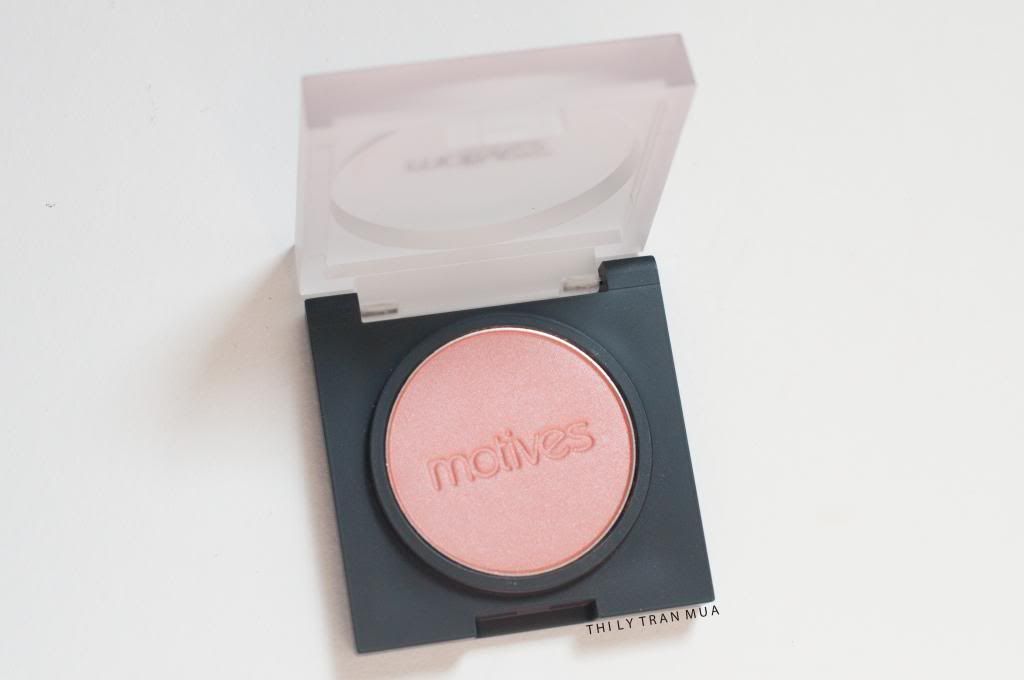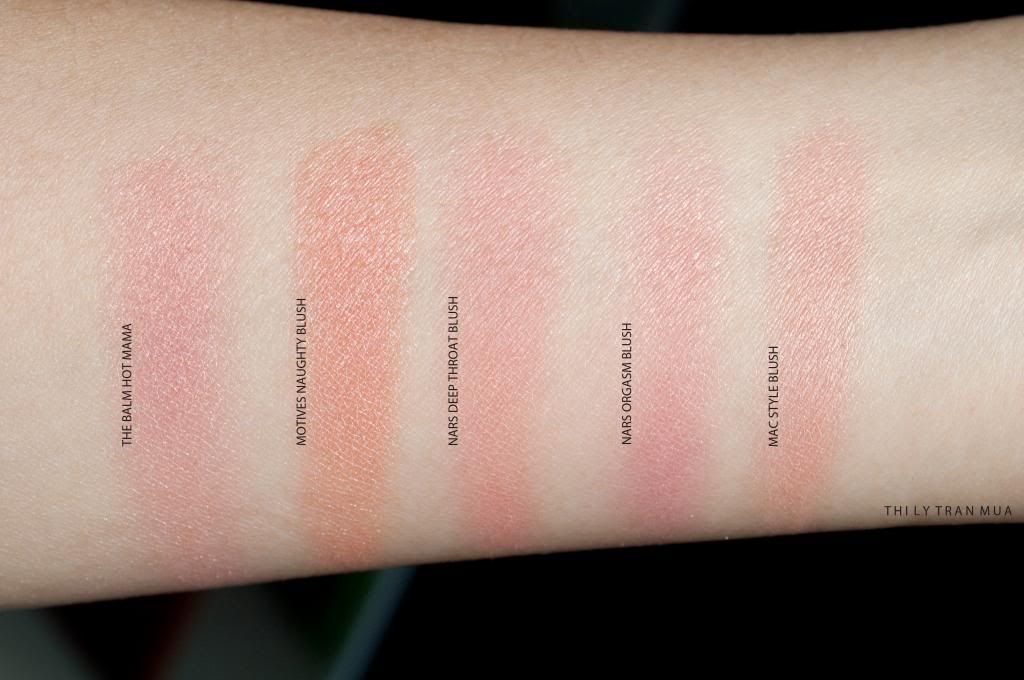 So recently I signed up to become a
Motives Cosmetics Rep
- Don't worry, I won't be shoving their products down your throat. I'll tell you about my decision to join in another blog post, it's interesting I think! But anyway, I wanted to show you in this post the blush I received in my starter kit, Motives Cosmetics Blush in Naughty. The quality of this blush is incredible, the pigmentation and texture reminds me a lot of The Balm Blushes, but better!
PACKAGING:
All the Motive Cosmetics compacts come in the same style, frosted plastic lid and a black base - not pretty, but not bad either. The basic packaging is functional and keeps the products nice and uniform and I can really appreciate that because it looks more professional in a makeup kit. The best thing about the packaging is that all the pans pop out with a tap, which is perfect for transfering them into larger palettes without hacking at the original packaging. One downside to the packaging is that when you take the pans out, they don't have name labels under the pans themselves which might lead to confusion later on when you go to put them back into their individual pots or even when you need to repurchase.
PRICE & AVAILABILITY:
Price wise, these blushes are very affordable costing $17.95 AUD for 3grams of product; which is actually a lot more affordable than a lot of 'drugstore' brands here in Australia. Availability, it is only available
online
or if you have a local rep near you to show you some of the products.
QUALITY & FORMULATION:
The texture of this blush is incredible, it applies smooth and the pigmentation is awesome. Naughty isn't powdery at all and feels very buttery. It applied onto the skin with ease, the texture is very similar to The Balm Powder blushes but much more smooth, there is no 'grit' to this blush at all. Whilst I was swatching it applied so easy, compared especially to my beloved Nars Blushes - Orgasm is the worst to swatch. This blush is made in the U.S.A which ensures top quality and production standard.
COLOUR COMPARISONS:
So just looking at the swatches above, you can see that the Motives Blush in Naughty is a warm peach blush that ever so slightly leans pink, I was expecting it to look the most similar to MAC Blush in Style, but swatched Style didn't produce the same amount of pigmentation and had more golden shimmer. Pigmentation wise, it was most similar to The Balm Hot Mama, but Hot Mama swatches much more pink.
OVERALL:
I am completely smitten with the blush formulation and can't wait to order more colours and with different finishes! The price point is perfect because it is affordable and offers a superior quality to other blushes of the same price and beyond. Definitely recommend the Motives
Blushes
&
Shadows
(saving this for another post) if you were thinking about trying out some of their products.
Any questions regarding any of their products, shoot me a message or email and i'll gladly try and help you as best as I can.
xx
Motives Cosmetics:
thily
Instagram:
thilytran
Facebook:
thilytranmua
Email: thilymua [at] gmail.com